On Saturday, we had a few people over for a day of grilling burgers and hot dogs, drinking beer, and playing cornhole and Cards Against Humanity in the back yard. We were outside for a good 12 hours, from noon to 1 AM. When we started, it was beautiful out, very sunny and warm so I wore this almost-halter top and shorts. Why does navy and pink look so good paired together? I seriously could wear this color combo every day.
As the day went on, I kept adding layers. First, this cardigan. The top and shorts alone are cute, but the cardigan adds a nice finishing touch to the outfit, which is what makes this (and any outfit) look so put together, in my opinion.
Then, the sun went down and I got a little cold so I put on my denim jacket. I put it on over the cardigan for a little extra warmth while we were playing some night-time cornhole. By the end of the night, I was wrapped up in a blanket because it got pretty cold.
We had a lot of fun this weekend, and probably drank too much beer, but it was nice to have a fun weekend before the summer school session gets going full-swing.
Linking up with Walking in Memphis in High Heels | Because Shanna Said So | The Pleated Poppy | Perfectly Coutured | The Tiny Heart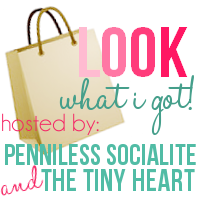 Top & Cardiga: Banana Republic (last year)
Shorts: Target
Denim Jacket: Gap
Shoes: Target
Necklace & Sunnies: Target
Bracelet: Old Navy