If you follow us on Instagram, you've probably already seen a little peek of this outfit. It seems a little silly to wear sweaters in the summer, but the office where I work as a graduate research assistant loves to keep the temperature approximately arctic so sweaters are necessary. I won't lie, I kind of like it. The only downside is you have to walk outside in the heat to get inside to the chill, but those few minutes are worth it.
I had trouble deciding if I wanted to wear the belt or not. Ultimately, I went with it but I started out without it. You can see in the photos below that it's missing. What do you think, belt or no belt?
Here's the fun one: This was just a test picture so I could get the lightening right (or, at least, as close as possible) and just as the camera snapped, my neighbor jogged by and made me laugh. It's a cute photo so you get to enjoy it, too.
Linking up with More Pieces of Me | Monday Bloom | Still Being Molly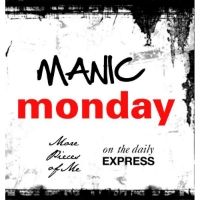 Sweater: J. Crews (thrifted)
Skirt: Target
Shoes & Belt: Banana Republic
Cami & Necklace: Target
Earrings: gift
Handbag: Franco Sarto via Ross